We all experience BIG feelings from time to time. As adults, we're encouraged to practice 'self-care' and take a few quiet minutes to ourselves when we're feeling overwhelmed. Chances are, if you've practiced this, you know it can work wonders! Well, guess what? That same strategy works for kids! We recently sat down with an expert from Sanford Children's CHILD Services and Brittney Nathan, CCLS with Sanford fit, to discover how caregivers can help their littles use and benefit from a cozy spot.

What is a cozy spot?
A cozy spot goes by many names: cozy corner, calm down space, a safe space, or even a zen den. The goal of this space is to be a safe, calming, and quiet space children can go to when they need a break to self-regulate. It is NOT a time-out space or to be used as punishment. You do not send kids here to be isolated, but rather a cozy spot is a safe space where kids should want to go to when they feel BIG feelings. And good news, it works! The cozy spot has been proven to help kids control impulsive behavior, improve communication skills, and better understand and positively cope with their emotions.
Keep in mind that kids do not act out because they want to. This occurs because they simply do not yet have the skills required to control their actions when overwhelmed with emotions. A cozy spot provides kids with the ability to practice these developing skills and can potentially avoid meltdowns.

How would you talk to kids about the cozy spot?
According to the CHILD Services expert, "Childcare providers or teachers can introduce this space and the resources inside it to children either individually or in a small/large group. If you have circle time, start the discussion then! Parents should find uninterrupted time to sit down with their child to introduce them to the new space."

"There is no right or wrong answer, just remember to keep it positive! Littles should never feel ashamed of their emotions or feel like they are being punished for feeling a certain way. It's so important to teach kids that ALL feelings are okay," Nathan said. "The cozy spot can help kids discover that although their feelings are valid, negative reactions are not. Instead of reacting poorly, they can take a break in their special space!"
When should caregivers encourage kids to use the cozy spot?
"Anytime! I encourage parents and providers to start using this space and the resources within the fit-kit in neutral times when children are calm. This is the best time to practice and help children learn the skills they need when strong feelings are present. Then when a child becomes upset, frustrated, or sad, they will be more likely to use these resources appropriately," said the CHILD Services expert. "At first, children won't know how to use these resources appropriately. As a parent or provider, you will need to teach children about the resources, and then model and practice ways to use them. It will take some time and practice until children begin to use the resources independently."

Here's one example of how to gently encourage littles to use this space from Nathan: "Kneel down to ensure you're at the child's level, and say 'I see the corners of your mouth are turned down and your eyebrows are close together. If you are feeling mad, sad, or frustrated, that is okay! Would you like to go to your cozy spot and color a picture?'
In this example, you described what you saw, validated the child's feelings, and then gave the child the option to practice a healthy coping strategy."

Now that you know what a cozy spot is and how you can introduce the calming space to your kiddos, let's get started and create your own!

1. Stock up on engaging and educational printables.
fit has created Cozy Spot fit-kits for all the kiddos in your life. Each kit is jam-packed with fun and educational posters, activities, and more! Click below to download and print your free printable kit today!
2. Sensory bin for the win!
Sensory activities can be incredibly soothing for littles. Stock up on Play-Doh, stress balls, fidget spinners, and quiet activities like puzzles and books! Use small bins or baskets to keep the space tidy and (somewhat) organized.

3. Decorate!
Create a cozy spot sign, or use our printable sign in the fit-kit! Crank up the cozy with floor cushions, colorful pillows, a stuffed animal, or fun wall art.
Now that you've printed your fit-kit and created your cozy spot, how can you use the rest of the fit-kit with your kids?
"Make it a part of your daily routine", emphasized our experts. "As a provider, you could check in with each child as they get dropped off in the morning. 'Good morning, Oliver! Should we check our poster to see how you're feeling this morning?' Or as a parent, you can make it a part of your daily bedtime or morning routine at home."

Your kids can also practice the different faces on the Feelings Faces Poster. With or without a mirror, practice all the feelings and what each of them looks and feels like. Kids can point out the facial expressions, eyes, mouth, and other body parts that help to explain the feeling. Try using language like, "I see your hands are making fists and your mouth is frowning."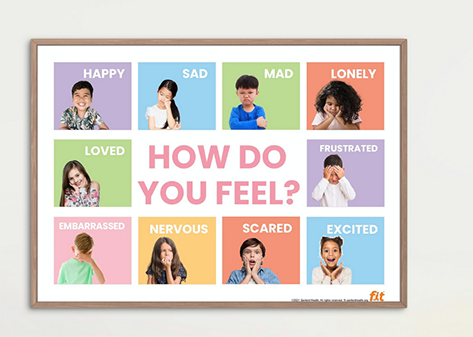 Play Find the Feeling Matching Game. For each match the child makes they must practice a calming choice. For example, a child matches the mad cards together and then can choose which calming choice to practice, for example, taking three deep breaths.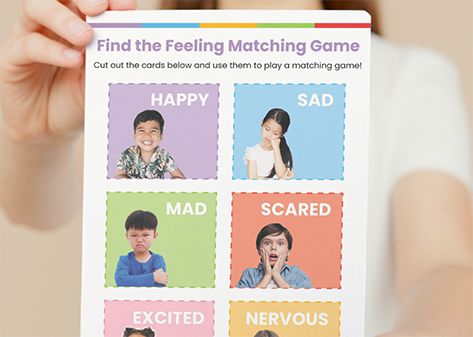 Use a puppet or stuffed animal to teach and practice the different calming choices on the Calming Choices Poster Pack. For example, "Teddy is feeling frustrated because someone took his toy. He is going to count to 10 to help his body feel better. Let's practice this with Teddy."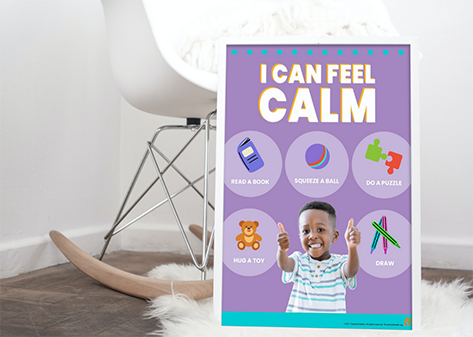 Check out some more inspiration below on how you can create a cozy spot and print off more calm-down activities for your kiddos to try!
Ready for More? You Might Also Like:
Kids Coping Strategies Poster Pack
My Keep Cool Cards: Printable Coping Strategy Cards for Kids
Let's BLOOM: An Activity to Inspire Healthy Habits