Summer is a great time to try new activities with your family—especially outdoors! Being outside plays an important role in improving your family's health, even in ways you may not have even considered. When you increase the amount of time you spend outside, you can help relieve stress, calm your mind, move your body, and strengthen your immunity.
There are so many ways you can take advantage of the benefits of unplugging and recharging, but it can be hard to get the entire family on board. We put together a free, fun, family-friendly list of 16 ideas with something for everyone! From outdoor adventures, rainy day ideas, and even mindfulness, there are so many ways to spend time together as a family. Click here to check out the digital edition of Hood Magazine with more awesome, family-friendly ideas!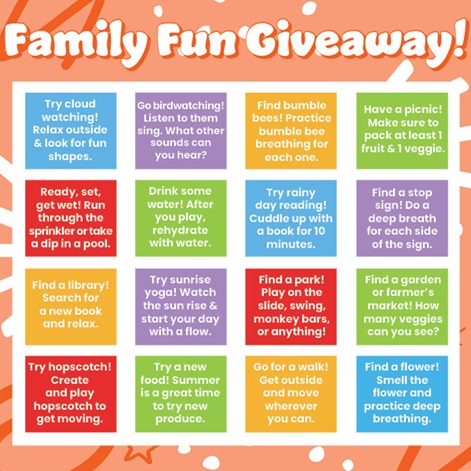 Getting started on your Family Fun Giveaway Adventure is easy:
Choose an activity that works best for your family that day – even if it means choosing something that you can do at home.

Find a Park: Playtime is an integral part of a happy, growing child and spending time at a park is a fun way to get moving as a family!
Try Cloud Watching: Cloud watching is a great way to relax and recharge your body and brain at the end of the day.
Have a Picnic: Picnics are the perfect opportunity to try new foods! Don't forget to bring some water.

Snap a photo of you and your family completing one of the activities in the list below.
Enter the back-to-school prize giveaway by posting your pictures on social media and tagging @sanfordfitkids. You can also send us your photo by email at fit@sanfordhealth.org.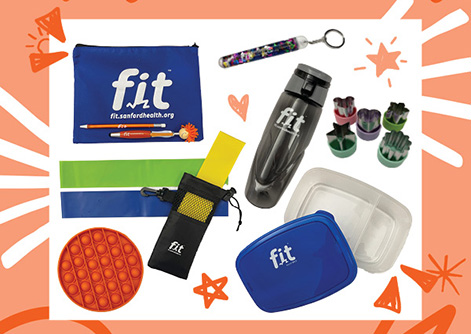 The contest runs until August 19th, 2022. Each photo submission is considered as one entry to win a back-to-school prize pack, pictured below! Click here to read full contest rules and details. Have fun with your family and friends!
Ready for More? You Might Also Like:
Crafts for Kids: Build a Worry Monster Box
7 Easy, Quick, and Nutritious Breakfast Ideas for Kids
Flip or Freeze: A Move-Along Activity for Kids